Hunter Wired Controllers

Benefits
Versatile: Modular design is expandable from 6-30 stations with conventional wiring, and up to 48 stations using decoders and the DUAL module.
Intuitive: Easy to install, easy to use, and easy to program.
Intelligent: Diagnostic dashboard provides real-time system status for easy monitoring.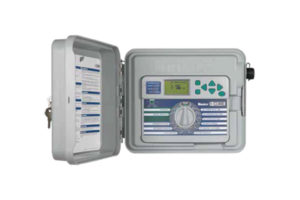 Hunter I-Core
The plastic cabinet version is expandable from 6 to 30 stations, and the metal cabinet model can handle up to 42. Adding a DUAL® two-wire module and decoders can expand station capability to 48. Stainless steel and pedestal models are also available, providing a broad range of enclosure choices. With other add-on options like a ROAM or ROAM XL remote and the built-in conservation focused Solar-Sync®, I-Core's possibilities are all but limitless.
Download PDF
BENEFITS
Number of stations: 6 to 42 (48 stations with DUAL decoders)
Type: Modular
Enclosure: Outdoor, plastic or metal
Independent programs: 4
Start times per program: 8 (A, B, C); 16 (D)
Max. station run time: 12 hrs