Centrifugal Pumps

Benefits
Volute Case Incorporates Precise Geometric Design for Increased Hydraulic Efficiency
Thick-Walled Close-Grained Cast Iron to Handle the Stresses of Everyday Use
Back Pull-Out Design Allows Easy Removal And Service Without Disturbing Piping Connections
Enclosed Impeller Designed and Machined to Optimize Performance and Operating Efficiencies
Discharge May Be Rotated To Any of Four Positions for Piping Convenience
Various mounting configurations available, including close coupled, frame mounted, and engine-mounted
Berkeley Pumps – Type-B
Berkeley delivers high-performance pumps for irrigation, turf, agriculture, dewatering, construction, municipal and industrial applications. Our professionally engineered, high-quality Type-B centrifugal pumps are specifically designed to provide you years of trouble-free, efficient operation.
SAE Engine Mount
Available as pump ends for mounting engines with SAE standard flywheel housings, this design is ideal for applications where electricity is not readily available.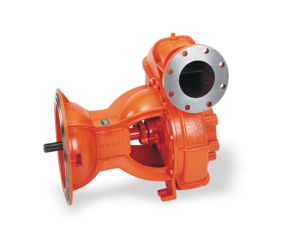 Closed-Coupled Motor Drive
The unique back pullout design allows access to the impeller without disturbing the piping. These pumps are ideal for applications requiring high performance and easy maintenance.

Frame Mount
Designed for the user who has a separate power source suitable for driving through couplings or belts, these pumps deliver quality construction and performance that your application demands.