Centrifugal Pumps

Benefits
Volute Case Incorporates Precise Geometric Design for Increased Hydraulic Efficiency
Thick-Walled Close-Grained Cast Iron to Handle the Stresses of Everyday Use
Back Pull-Out Design Allows Easy Removal And Service Without Disturbing Piping Connections
Enclosed Impeller Designed and Machined to Optimize Performance and Operating Efficiencies
Discharge May Be Rotated To Any of Four Positions for Piping Convenience
Various mounting configurations available, including close coupled, frame mounted, and engine-mounted
Berkeley Pumps – Type-B
Berkeley delivers high-performance pumps for irrigation, turf, agriculture, dewatering, construction, municipal and industrial applications. Our professionally engineered, high-quality Type-B centrifugal pumps are specifically designed to provide you years of trouble-free, efficient operation.
SAE Engine Mount
Available as pump ends for mounting engines with SAE standard flywheel housings, this design is ideal for applications where electricity is not readily available.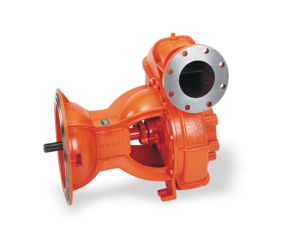 Closed-Coupled Motor Drive
The unique back pullout design allows access to the impeller without disturbing the piping. These pumps are ideal for applications requiring high performance and easy maintenance.

Frame Mount
Designed for the user who has a separate power source suitable for driving through couplings or belts, these pumps deliver quality construction and performance that your application demands.

Cornell Irrigation Pumps
Double Volute
Cornell introduced the double volute as an industry first more than 30 years ago. The double volute system effectively balances forces within the pump to reduce radial load, shaft deflection and fatigue. This eliminates shaft breakage and extends the service life of packing and mechanical seals, wear rings and bearings while maintaining high hydraulic efficiency.
External Hydraulic Balance Line
Cornell's external hydraulic balance line equalizes pressure between the impeller hub area and the pump suction to reduce axial loading acting on the impeller, shaft and bearings. The balance line also assists in moving sand and silt from the stuffing box to the low pressure area at the pump suction, reducing wear of the wetted parts.
Energy Efficiency
Cornell Pumps are designed to deliver best in class efficiency. Depending on operating hours, fuelant, and horsepower required, you can save $3,000 per year (or more) in energy costs. Cornell manufactures more than 35 IRRIGATION pump models that meet or exceed optimum efficiency standards for centrifugal pumps.
Materials of Construction
All Cornell irrigation pumps are constructed with top quality materials. Cornell irrigation pumps are cast iron, bronze fitted or all iron construction. Optional materials are available for abrasive or caustic applications. Standard features include balanced impellers, heavy duty shafts, replaceable shaft sleeves, and replaceable wear rings.
BERKELEY PDF